reCAPTCHA
reCAPTCHA by Google is a free service that protects your website from spam and abuse. It's designed to be friendly to humans, much more friendly than image-based CAPTCHA. It uses advanced risk analysis techniques to tell humans and bots apart to protect your website from spam.
Get Started
To get started with reCAPTCHA you must first have a Google account. Once you are logged into Google go to https://www.google.com/recaptcha/admin to register your new website. The usage of reCAPTCHA is limited to the domains that you register. It's recommended that if you have multiple domains that you register each one separately.
You will want to use reCAPTCHA v2.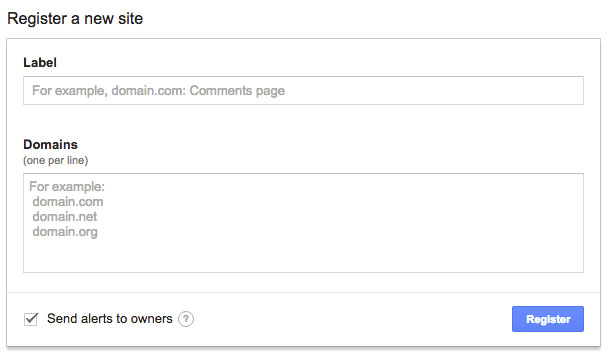 Give a meaningful name in the "Label" field.
In the "Domains" field list out the domain or domains that you plan to use reCAPTCHA on.
See the Getting Started documentation on the Google site for more information.
Get the API Keys
Once you've registered your site you then need to get the API credentials. reCAPTCHA gives you a "Site Key" and "Secret Key"

Integrate in BranchCMS
In BranchCMS click on the "Site Settings" link at the upper right of the administration and then click on "Integrations"
Click the "Integrate Google reCAPTCHA" to setup reCAPTCHA.
Copy the "Site key" value from the Google reCAPTCHA page and paste it into the "Site Key" field.
Copy the "Secret key" value from the Google reCAPTCHA page and past it into the "Secret Key" field.
Make sure that if either of those values ends in punctuation that you get the punctuation too.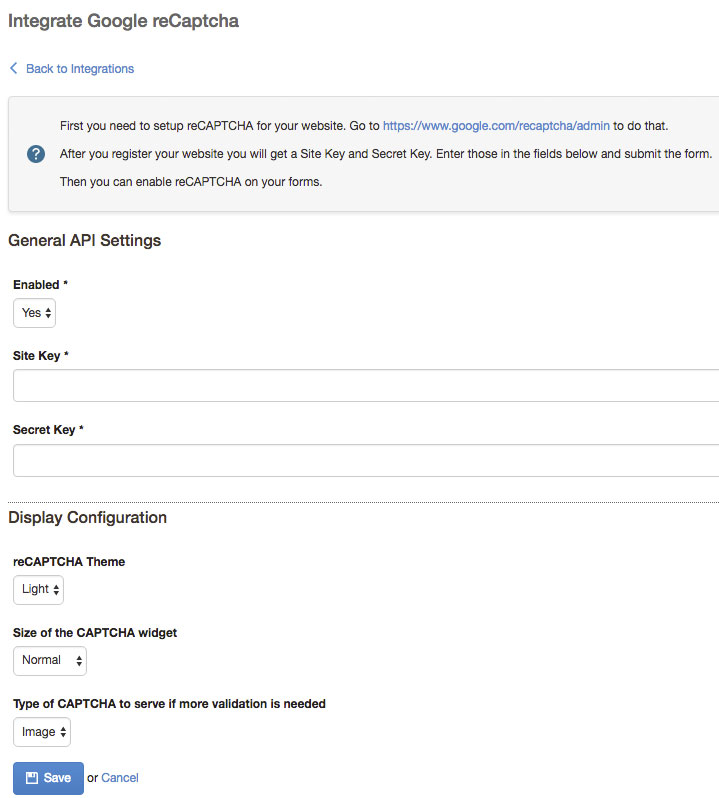 Customize the Display
When you're setting up the reCAPTCHA integration you can also configure the display options. These values will be the default display choices for all places that reCAPTCHA is used throughout the site. You can, however, override them with each form that uses reCAPTCHA.
Integrate with Your Form
Now that reCAPTCHA is setup for your site you can use it on your forms. By default CAPTCHA is disabled on all forms. To enable it edit the form and go to the CAPTCHA tab.

Choose "Google reCAPTCHA" for the "CAPTCHA Type" field. That will show you the status of the reCAPTCHA integration and allow you to customize the display settings for the form.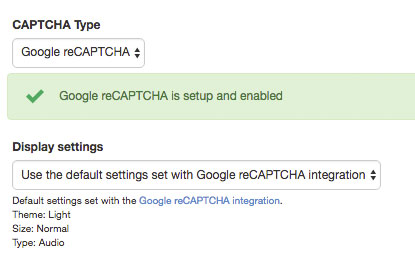 If you want to customize the display settings for that form choose "Customize the display settings" for the "Display settings" field.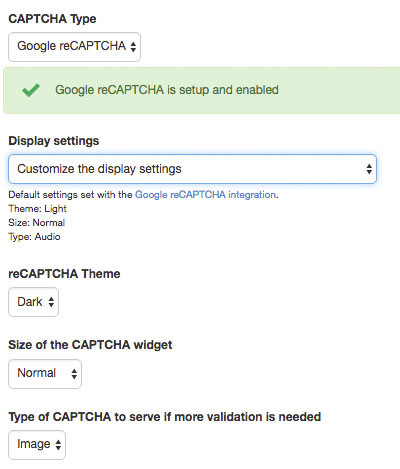 Last Step - Enable in the Form Template
The default form templates automatically include the {#form.captcha.tag} variable tag to output the CAPTCHA field. If your form template has been customized then you will simply need to place the following tag where you want the reCAPTCHA widget to show:
{{ form.captcha.tag }}