Adding Collection Items
To add an item to a collection, click the Add a New Item button in the Items tab of your collection's details screen.

The Add a New Collection Item window contains the Item Name and Display Order settings as well as the attributes that you've added to your collection.

View the documentation on Collection Attributes.
View the documentation about the different types of attributes and how they work.
Publish Status
The publish status settings can be controlled within the Publish Status tab.

There are three different publishing options. You can choose one from the Publish Status select menu.

Published means that the item is updated and published as soon as you save it.
Publish Later allows you to set a future date when the item will be automatically published.
Not Published makes the item unpublished and not viewable on your site.
The Publish Date controls when the post is published. You can choose a date and time by choosing values from the select menus.

Alternatively, you can select a date by clicking the calendar icon to bring up the date picker.

Pick a click on a date in the date picker to choose the date.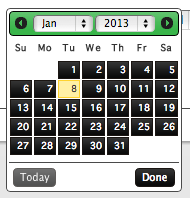 Setting the Publish Date to a future date will only affect items that are set to Publish Later.
By default, published items will stay that way until they are manually unpublished. However, items can be automatically unpublished after a specific date. To do this, choose A Specific Date under the Publish Until select menu.

Set the expiration date by choosing values from the Expiration Date select menus.

Similar to choosing a publish date, you can click the small calendar icon to select a date using the date picker instead of the select menu.