BranchCMS is a hosted website content management system designed for building and managing beautifully creative bespoke websites. BranchCMS is not a limited "website builder" and thus does not have any design restrictions.
Our goals are to make it faster and easier to build and maintain unique websites. Whether you are a web-savvy business owner, an independent designer or part of an agency, BranchCMS gives you the functionality needed for your websites.
Everything is custom
No two sites are the same and neither should the CMS that powers your website. With BranchCMS you have full access to all aspects of your website.
Complete control over all aspects of your design.
Full access to HTML, CSS, Javascript and other assets of your website.
Customize the CMS to meet the content needs of your website with custom fields and content attributes.
Built-in code editors with syntax highlighting.
Create unlimited templates and layouts for your site.
Powerful templating language lets you use custom logic in your templates and layouts.
Use your own HTML and CSS.
FTP access.
Use any client-side scripting such as jQuery, Angular, React, Backbone.js, something custom or whatever else you may want.
Style your website with your own CSS or build off of a framework like Bootstrap, Foundation, Gumby or whatever new and fabulous CSS framework that just came out.
Customize the content
Create the fields that you need for your unique content.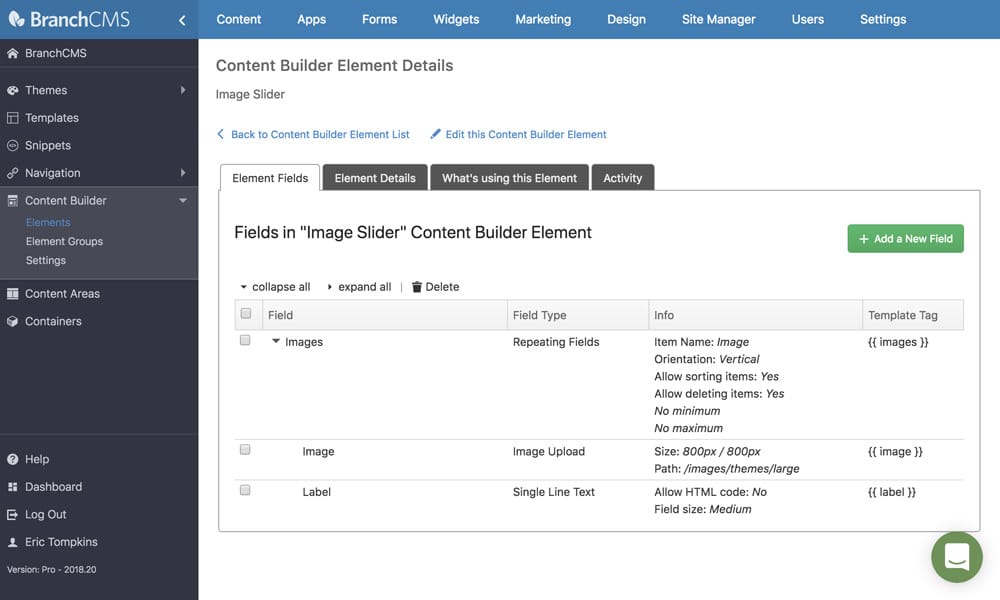 Content builder for creating unique pages
BranchCMS's built-in drag-and-drop content builder allows you to easily build unique pages. Create your own content builder elements to meet the needs of your website and business.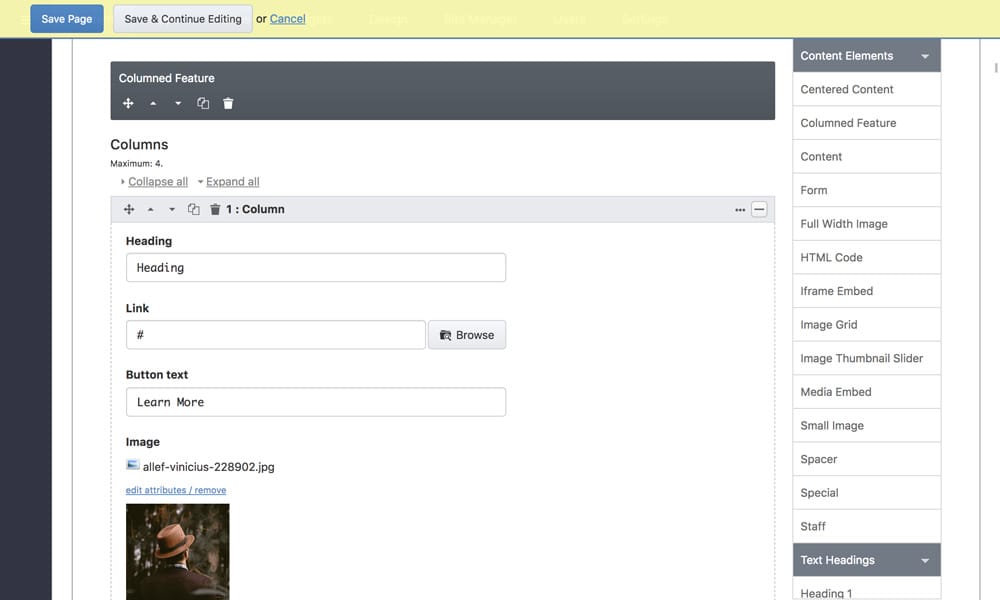 Complete design freedom
Create and customize your own templates using the powerful Twig templating language.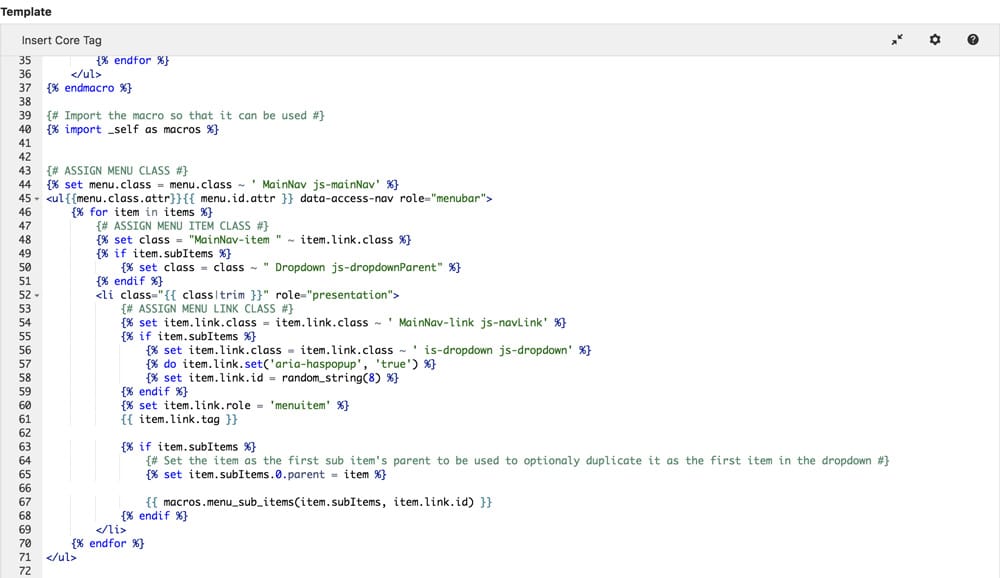 Start with a solid design base with themes
Your team can develop your own themes to jumpstart your projects.
Whether they are boilerplate themes or a full design, BranchCMS themes enable you to start projects faster and with more consistency.
Or, simply go custom and do your own thing!
Plugins not needed
Unlike popular CMS's you don't need a bunch of plugins to simply get a functional website.
BranchCMS has a number of specialized, fully integrated apps like a blog, calendar, gallery, member directory, store, email campaigns, real estate listings, and more. If you want to build an image slider there are a few built-in ways to do that including setting up a Collection Widget, Content Layout, or a custom Content Builder Element. Whatever your content needs are, chances are BranchCMS can handle it out-of-the-box.
As with everything else, you can fully customize all of the apps for your content and design needs.
SEO built-in
Powerful SEO functionality comes standard in BranchCMS. No external plugins necessary.
SEO friendly URLs that you can customize.
Fast loading sites.
Complete control over robots.txt.
Customize the page titles, meta description for all pages.
Bulk editing of page titles and meta description.
Insert custom header code for individual pages.
Easily create 301 redirects.
Automatic XML sitemap.
Alt tag and link title access.
Full control over all content.
Support that'll surprise you
We pride ourselves on our support for individual customers and agencies alike. Everyone is important and we do our best to respond to all requests as soon as possible with helpful answers.
Our support team can be contacted via email, phone, or through the built-in chat widget in every site. We try to reply within an hour to most requests during normal working hours, but you'll often get a reply within a few minutes tops.
A reliable platform that grows with your business
As your business or your client's business grows so do the needs and demands of the website. The BranchCMS platform is designed and built to scale with you.
A number of built-in apps like a blog, gallery, calendar, store, members.
Unlimited pages and content.
Load-balanced and highly scalable.
Designed for large, high traffic websites.
Protected by enterprise-level firewalls.
A scalable platform built upon Amazon Web Services.
Files served from a CDN.
Fully accessible by our team.
Comprising specialized servers for handling requests, storing files, database and caching.
Monitored 24/7 by numerous monitoring services to notify us of any issues.
Backed up daily.