Bulk Assign Sale Prices
You can easily assign sale prices to products in your store when viewing your listing of products in your site's administration.
For example, if you are having a sale on an entire category of products in your store, such as a certain category of fabrics, and you want them all to be 15% off, you can check off all items in your category and add the sale prices all at once. In addition, multiple item sales prices can be set by removing a fixed amount off of the normal price instead of using a percentage. You can remove sales on multiple items as well.
Selecting the items
At the product listing in your Store app, select the items you want to assign sale prices to.

After selecting one or more items to assign sale prices to, click the Set Sale Prices link above the table.

Clicking this link takes you to the Bulk Assign Sale Prices window. Here, you'll see the options to assign (or remove) your sale prices on the left and a listing of your selected products on the right.
Setting or Removing the Sale Price

If you change your mind and don't want to assign sale prices to a specific product in the product listing on the right, you can simply uncheck the item. When you save your changes, any unchecked items will not be modified.

By default, the options are configured to set the sale prices by subtracting a percentage of the normal price to get the sale price for each item.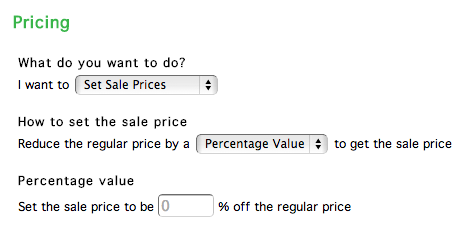 Enter in a number between 1 and 99 in the field below Percentage Value.

If you want to set the sale prices by using a fixed amount instead of a percentage, choose the "Fixed Amount" option from the select menu under How to set the sale price. This will change the Percentage Value field to a Fixed Amount field.

If you want to remove the sale prices from the items, all you have to do is choose the Remove Sale Prices option from the select menu under What do you want to do?. Picking this option hides the fields below it.

Save your updates by clicking the Save Sale Pricing Changes button at the top of the window. You will see your new sales prices for your items in product listing table.

FAQs
Q. My sale price isn't showing. Why not?
A. Most likely this is because the calculated sale price ended up being either 0 or less than 0. A sale price needs to be greater than $0.00.