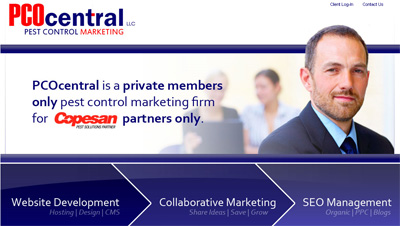 I want to give a big shout-out to PCO Central for recently becoming our first partner to become a
Plus Partner. Congratulations!
PCO Central is a website marketing firm that specializes in the pest control industry. Their focus on that niche market has lead them to expansive growth as they really understand the unique needs of pest control companies. Wes Hamel a partner at PCO Central and their Designer/Marketing Specialist has been in the pest control industry for over 7 years and brings a lot of knowledge about the unique marketing challenges for pest control companies to his clients.
Wes had this to say about Aptutiv Studio:
"Apuitiv Studio is a website content management tool that not only works, but is light years ahead of the competition which are scattered all over the internet. What has separated Aptuitiv from its CMS competitors is its unique approach to its coding and scripting for overall versatility and usability. If you're a designer with little html experience or a developer, Aptuitiv Studio make building a successful search engine friendly site fun and easy.

What has made Apuitiv Studio the product of choice for PCOcentral is its committed team, exceptional support to an otherwise bullet proof application. Whether we are launching new blogs, online stores, managing database entries, or designing new page layouts, we have yet to see a module or feature this software can't handle. PCOcentral to date has over 15 Websites hosted with Aputiv and have found our efforts with their software much more rewarding and painless than those of Joomla, Light CMS and other opensource CMS.

We highly recommend Apuitiv's software. If you want to create a new website from scratch or want to turn your next photoshop web idea into reality look into one of the best kept secrets in industry and grow your company like we have."
Thanks Wes and good luck with your future growth!